Frying, baking, grilling and roasting in a healthier way. No use of fat – up to 80% less grease !
For the tastiest snack you don't have to take out your deep fryer anymore. In the SnackTastic® from FRITEL you prepare snacks, meat balls, hamburgers, meat croquets with no less than 80% less fat. For extra variation use vegetables, shrimps, chicken wings and other tapas.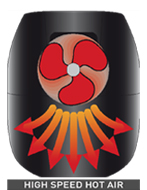 For more practical information of and recipes for the SnackTastic® check out our SnackTastic® Facebook page or click
here
.
And what about fries ?
Off course you can use the SnackTastic® for your fries. Use fresh fries or oven fries for the best result.

For the best and crispiest fries, we advise to use a deep fryer from our FryTastic® range. These deep fryers offer the secret for the real Belgian fries.
They are equipped with the double heating element, which makes the fries:
• Ready up to 50% faster
• Therefore, more crispy
• Therefore, less greasy
• Therefore, healthier

So the ideal is to use your SnackTastic® for your snacks and your FryTastic® deep fryer for your fries.
• The snacks and the fries are ready and served simultaneously
• The oil or grease has to be changed less frequently, because the snacks are baked separately.